Packets, liners, bags
Polyethylene products firmly entrenched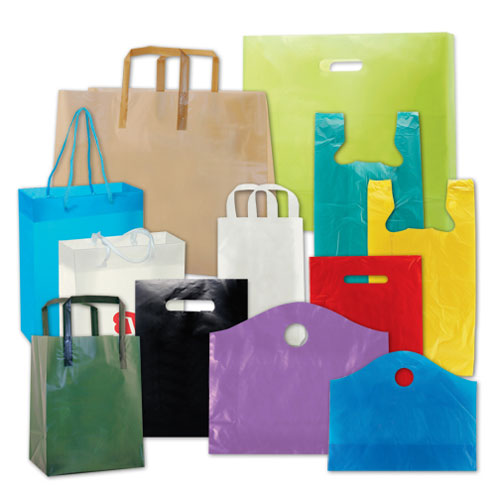 in the food, construction, agricultural, commercial and household sectors. Due to its properties, namely, versatility and cheapness, any material can't replace it. The bags are the most famous products made of polyethylene.
Polyethylene bags can be divided into the following categories:
• polyethylene bags for garbage (household and construction);
• polyethylene liners;
• polythene shrink bags for packaging;
• plastic bags with handles and without handles;
• polyethylene covers.
Polyethylene bag is a polyethylene product of high (LDPE) or low (HDPE) pressure that is used for the storage or movement of goods, solids, debris, etc. Polyethylene bag is an universal container, that's why it is so demanded in the various spheres of production and consumption.
Polyethylene liners - is the product, which is used in the form of inserts in the solid container such as a box, cloth bags, barrels, etc. Liners are made of high (LDPE) and low (HDPE) pressure polyethylene, in desired size and strength.
Polyethylene packets (T-shirt and a banana) - is a modern and versatile product for goods packaging. Polyethylene t-shirt packets are more popular in the supermarkets, and polyethylene banana packets - in the brand stores. Also, this type of packaging has been successfully used as a publicity stunt, by the application of flexographic printing.
Shrink packets for pallets are convenient and practical for big-volume cargopackaging. Shrink packets reliably and securely fasten the productson the pallet, while protecting against external factors such as dust, dirt, moisture, damage. Such packages are made of shrink film, and have all of its advantages.
Polyethylene covers for tires - a practical and convenient packaging for tires storage and transportation. Polyethylene bags for tires will ensure the purity of your trunk or storage space.
If you call our office, we will answer all the questions. Qualified specialists will help you to choose the products and will make sure that all your wishes would be fulfilled. Also note that polyethylene bags, polyethylene packets and polyethylene liners wholesale will cost for you at a much affordable price than retail.