Polyethylene liners
Polyethylene liners - polyethylene products, which are intended fo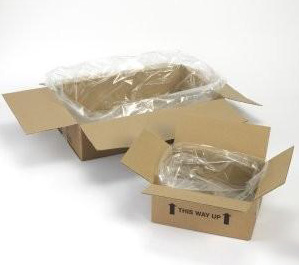 r insertion into another more solid packaging, which would prevent the contact of food, a variety of liquid and granular products with the environment, as well as to protect products from moisture, dust and damage. The most common liners are used for goods packaging in cardboard or wooden boxes, bags, barrels and various containers.
The liners have such a wide scope, that to date they are very popular in food, chemical, medical, industrial, and construction, commercial and agricultural sectors. For example, in food production liners are indispensable in the packaging of cereals, sugar, confectionery, oil and other fatty foods, as well as for the storage and transportation of semi-finished and pickles. In construction they are widely used for packing cement and other building mixtures that need to be securely waterproofed.
Liners which are made both of high (LDPE) or low (HDPE) pressure, can be shaped with side folds and also have an opening at the bottom for ventilation.
The advantages of using liners are:
• resistance to piercing loads and high elasticity;
• protects the product from moisture, dust, damage;
• provides packaging tightness;
• resistance to low temperatures;
• large stock of tensile strength;
• can serve as a standalone package.