Recycled films
In recent years society has been much worried about ecological situati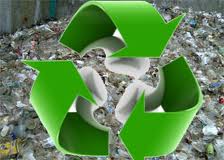 on of the planet and especially advocated avoiding of plastic products use. The main reason was the damage to the environment while processing of destruction plastic waste. But the technological process took a step forward and today the polymer processing is possible as well as the production of quality goods of recycled materials.
To date, the production of polyethylene films is widely used secondary materials (recycled polyethylene). Such material does not yield on strength or elasticity of the polyethylene raw material of the first grade. On the contrary, the film of recyclable materials is cheaper, more respectively and cost-savingfor consumers.
The distinctive properties of the film from secondary raw materials are:
• a darker color, and therefore a smaller percentage of light transmission;
• by direct contact with sunlight film breaks in 1-2 months;
• operated at a temperature of from -50 ° C to + 60 ° C;
• MUST NOT be used in the food industry, because it is not sterile, as well as in agriculture, where the films are at increased sunlight radiation.
Many people are mistaken thinking that the film from secondary raw materials is used in extremely narrow and highly specialized field. The range of using such a polyethylene film is quite wide and demanded due to the fact that it can be:
• shrink;
• construction;
• economic.
Shrink film of recycled materials is successfully applied for the packaging of big-volume cargo, construction and industrial materials, non-food products and products that already have primary packaging. Such a secondary film is an excellent packaging material for alcoholic and soft drinks, as well as packaged goods. The only distinctive feature of shrink film from secondary raw materials is its opacity, but it has a winning feature - cheapness.
Construction film made of recycled materials is a perfect way to save consumables during construction or repair process. During the construction of thermal and hydro facilities the process is carried out with the help of film. Such film also used during the repair protect the floor, furniture or interior elements that could be affected. In such cases, there is absolutely no need to use a film of first grade, more appropriate to use a film made of recycled materials. It is ideal because it has all the characteristics of first grade film, but also the competitive low price.
Using the secondary film recycled - it's not just saving money, it is also a concern for the environment.
Our company produce such a film in different forms such as sleeve, half-sleeve, blade, folding sleeve, a width of 150 to 6000 mm, and a thickness of 60 to 300 microns.