Flexographic printing
Branded packaging with company symbols, at present, is t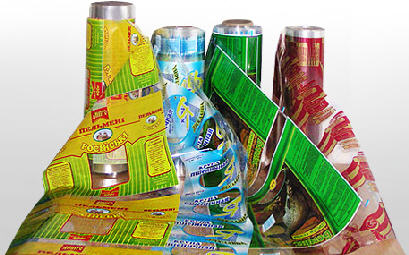 he main aspect in product selling and promoting. Since the consumer is primarily attracted by the goods appearance, the companies pay special attention to the packaging. It is well-known that original and stylish package increases the competitiveness and attractiveness of the product. Recently, the printing on the flexible packaging was problematic and not enough high-quality procedures. But today there is quality and not expensive printing - flexography.
Flexographic printing is a kind of high printing method in which there are used the flexible polymer plates (clichés) and low-viscosity (liquid), that quickly curable ink. Under the influence of low pressure the ink is transferred directly to the material in a very thin layer. With the help of flexography it became possible to transmit many tones and semitone, as well as combine colors in multi-color printing. Image drawing has virtually no restrictions on the type of the printing material, it can be:
• Polyethylene (high (LDPE) or low (HDPE) pressure, monolayer and multilayer);
• polypropylene (transparent and metallized);
• corrugated cardboard;
• paper, self-adhesive paper, thermal paper;
• laminated foil;
• laminated paper with polyethylene;
• composite materials based on polymer films;
• high barrier film materials.
Flexography printing method is rather young, but has already gained good turnover popularity because of its speed and quality of the circulation is much higher than even offset printing with monometallic form.
The advantages of flexographic printing are:
• simple technology;
• lower costs;
• has virtually no restrictions on the type of the printing material;
• the ability to print on materials of different thicknesses;
• high performance;
• high image quality at high print speeds;
• high quality prints on various materials;
• print ecology (used paint on a water or alcohol-based);
• low power consumption of equipment in comparison with offset printing;
• the possibility of combining post-printing processes (lamination, cutting punch, fold and glue) into a single line;
• low percentage of waste.
Flexographic printing is indispensable for the production of large circulation of products such as:
• self-adhesive labels;
• thermal labels;
• stickers, etc.
The main application sectors of flexographic printing are household chemicals, drugs, alcohol and soft drinks, food and petrochemical industries.
Our company has its own equipment for flexographic printing on polyethylene of high and low pressure. We suggest you the fulfillment of any orders for the production of polyethylene film with drawing images using flexographic printing, for example:
Packaging film printing
Multilayer printed film
Shrink film printing